Mobile Fertility Tracking Calendar
Track your fertility cycle signs directly from your web-enabled mobile smartphone (Android, iPhone, BlackBerry, and more) or PDA!
Track your basal body temperature (BBT) to help see when you've ovulated.
Track your cervical fluid, a primary indicator of when you will ovulate.
Plus track more daily fertility signs on your mobile smartphone fertility, and ovulation tests (OPKs), fertility monitor results, early pregnancy tests results (see bottom screenshot).
Includes mobile BBT correction calculator to adjust your BBT if you've taken your temperature earlier or later than usual.
And, free mobile BBT fertility chart to graph any of your fertility cycles.


Not a member? Join Now!

To use, goto: MyMonthlyCycles Mobile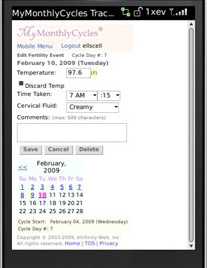 Free Mobile Ovulation Tracker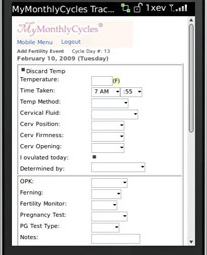 Direct link: http://www.MyMonthlyCycles.com/m.jsp