How do I track my symptoms, like menstrual cramps and mood changes?
At MyMonthlyCycles, you can track dozens of menstrual and PMS symptoms on any day of your menstrual cycle, including cramps, headaches, water retention, moods, stress, sleep changes, and food cravings.
To track your symptoms on any cycle day, use MyMonthlyCycles Menstrual Calendar.
How To: Locate the date in the calendar on which you want to track symptoms, and click Edit. In the lower portion of the next screen (My Events), symptoms appear in the section My Cycle Today. Click the edit link to access the symptom edit screen.
Also Available: MyMonthlyCharts - free charts to instantly see your monthly cycle patterns and trends: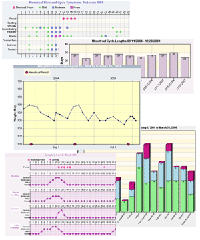 Menstrual Cycle and Period Length Chart & Report
Menstrual Period Flow and Symptom Trend Chart
PMS Symptom Trend Chart
Perimenopause Symptom Chart
Feminine Protection Chart
Menstrual Cycle Symptoms Comparison Chart
Weight Chart & Analysis Report
Travelling Cycle and Period Note-pads
Disclaimer: All information provided is for educational purposes only. It is not intended as a substitute for advice provided by a medical doctor or qualified healthcare provider. You should not use this information for self-diagnosis or for treating a health problem or disease. If you have any questions whatsoever about your medical health or believe you have a medical problem or disease, you should contact your medical doctor or healthcare provider. You should never disregard medical advice or delay seeking medical advice or treatment because of something you have read in this glossary. No guarantee is made about the accuracy, completeness, or relevance of the information contained herein.