Free Ovulation Calendar Calculator
MyMonthlyCycles Ovulation Calculator creates a complete ovulation calendar, forecasting when you'll ovulate and your fertile days.
Sample Ovulation Calendar (reduced in size)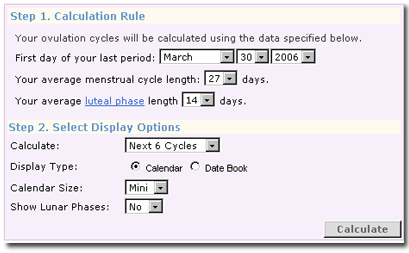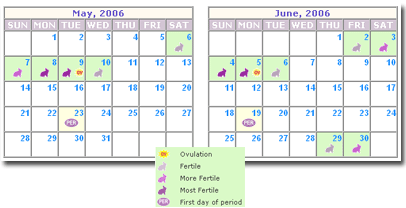 Related Ovulation Tools: Ovulation Tests, Fertility Monitors, Fertility Cycle Charting
Generating Your Ovulation Calendar is Simple and Free!
Not a member? Join Now!
Member? Login to Ovulation Calculator
MyMonthlyCycles can auto-fill in your key cycle dates from your menstrual calendar!
Calculate ovulation/fertile days for your current cycle, or future cycles!
Email your ovulation calendar -- so you're both in the know!
Several formats available, more!