Page 1 of 3
Perimenopause Journal Entry
Perimenopause Journaling enables you to keep a comprehensive diary of your hot flashes and night sweats.
On any day you experience hot flashes and/or night sweats, you can store as many journal entries as you want. You can post a journal entry indicating when each occurred, how long it lasted, as well as any notes.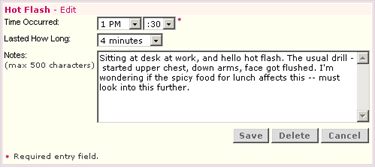 Perimenopause Journaling is for those who want more than the perimenopause symptom tracking available in MyMonthlyCycles. With it, you'll be able to log complete details about hot flashes and night sweats.

Screenshots may be reduced in size. All chart data is for demonstration purposes only.